2017 MEDICA & COMPAMED News Report

(Note: this picture is from www.medica.de)
On 16th November 2017, the world's largest medical fair MEDICA & COMPAMED closed successfully in Dusseldorf International Exhibition Hall in Germany. Guangzhou T.K Medical Instrument Co., Ltd. (hereinafter referred to as T.K Medical) has been taking part in MEDICA & COMPAMED every year since 2009. Just as the fair in previous years, T.K Medical has gained much attention from many exhibitors as well as related professionals.
MEDICA & COMPAMED is universally recognized as the largest and most comprehensive hospital and medical equipment exhibition in the world, which takes the first place of world medical trade fair because of its irreplaceable scale and influence. There are more than 4500 companies from more than 150 countries and regions around the world taking part in this exhibition. 50% of these exhibitors come from countries outside of Germany. The exhibition area is more than 108000 Square Meters. The exhibition also attracts around 150000 professional exhibitors to take part in each year.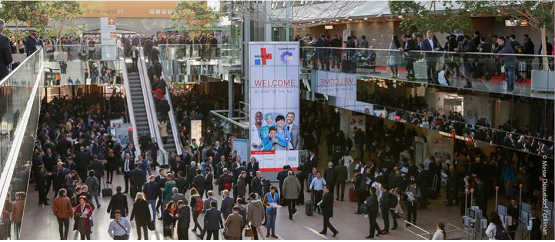 (Note: this picture is from www.medica.de)
T.K Medical proudly launched the following products in this great exhibition: laparoscopic surgery instruments, iSeeTM visible intraoral cleaning products, and some other surgical and non-surgical products, all of which win great attention and praise from our new and old customers all over the world.